Hello Readers! This summer I hope you will participate in the Adult Summer Reading program at Jackson County Public Library, beginning June 3rd. This year's theme is the Great Jackson County Read: The Armchair Traveler, which is all about experiencing the world abroad through the books you read, from the comfort of your favorite reading nook. Tickets will be awarded based on the number of pages read, with additional tickets awarded per the number of "destinations" you visit while reading. Your tickets can then be submitted for a chance to win some very cool prizes, provided by local businesses. Now is the perfect time to delve into literature from a country you have always wanted to visit, and historical and destination fiction books are an excellent way to get a taste of other cultures while losing yourself in an entertaining story. I am here to guide you through a selection of popular and immersive fiction stories set around the world, one continent at a time. So all aboard your flight, because this month we are setting off to Asia!
Japan
Japan has some of the most recognizable titles in destination fiction, and you have probably heard of Memoirs of a Geisha, by Arthur Golden. Detailing the life progression of a young Japanese girl who is groomed into the upper echelons of geisha culture, Memoirs of a Geisha is quickly devoured and makes an excellent poolside read. But did you know that Mineko Iwasaki, the geisha whose life Memoirs is based upon, actually wrote her own biography? Geisha, A Life (also released as Geisha of Gion) describes Iwasaki's life as Japan's most celebrated geisha, and also explores the eventual dissipation of the geisha.
Haruki Murakami is a celebrated Japanese author known for his cool, ethereal writing style, as well as his love for cats and American folk music. Norwegian Wood stands out as one of Murakami's best works, describing a Japanese college student's transition into adulthood during the late 1960's. A sensual story of unrequited love and choosing light over darkness and despair, Norwegian Wood's melancholic prose is perfect for a quiet evening of introspection.
Shogun, by James Clavell, is popular classic set in 17th century Japan. This epic story follows the interactions of a cunning Japanese feudal lord and an English captain washed ashore, incorporating equal parts politics, romance, war, and historically significant events of the time. Chock full of Japanese terminology, you will finish this book with nothing less than a more diversified vocabulary, and at over a 1000 pages, it will take you a while to get there.
Finally, our exploration of Japan would not be complete without some manga. Did you know manga was first developed here? Bakuman is a great series to start with, as it is a manga about people who write manga, and it explores the cultural factors which fed the development of manga. Ghost in the Shell is another excellent, decidedly adult manga series which features a cyborg heroine, far-future settings, and cyberpunk elements. If you would rather your stories be set in the past, then check out the House of Five Leaves series, which follows a young samurai who searches for a place to belong in feudal Japan. These titles can all be found in our Cardinal catalog.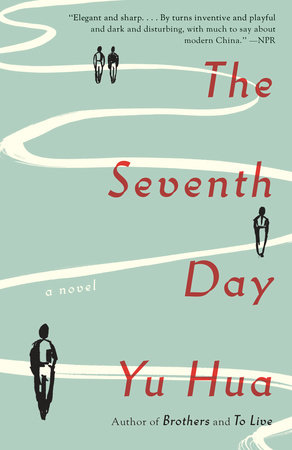 China
Lisa See can always be counted on to provide historical fiction novels which are diligently researched while delivering a powerful story. Snowflower and the Secret Fan is one of See's most successful works, detailing the lives of two Chinese girls who are bound by tradition to be lifelong companions as they endure tragedy and fortune alike. While Snowflower is liable to break your heart, Peony in Love takes an otherworldly tone, as it dives deeply into Chinese spirituality regarding the afterlife, where both the living and the dead continue to influence each other. Both are wonderful stories that will provide you with a thorough insight to the lives of women in China's past.
Yu Hua is a Chinese author whose works, at one point banned in China, are now widely read and celebrated around the world. To Live is an especially poignant story of a Chinese man who gambles away his entire wealth and eventually becomes a peasant. A highly regarded novel, To Live is a testament to what it takes to survive: not only grit, but a strong sense of humanity. The Seventh Day is one of Hua's more recent novels, and narrates the story of China's modern revolution through one man's journey into the afterlife. Seventh Day is at once an interesting study of the Chinese afterlife, as well as a powerful exploration into China's cultural development over the past hundred years.
Drawing from her experience as the child of missionaries to China, Pearl Buck is a renowned author who strives for cultural authenticity in her novels that also incorporate a blend of religious philosophy. The Good Earth is Buck's most well known title and a Pulitzer prize winner; this book initiates the story of a Chinese farmer in the early 1900's who approaches the near starvation of his entire family before a good deed turns his fortune around. While lesser known, Pavilion of Women is another excellent work of fiction by Buck. Pavilion explores the interior life of a traditional, well-off Chinese family, as well as the personal relationships which fuel order in the household.
Ha Jin is an award-winning Chinese-American author whose stories depict Chinese citizen's experiences following the Cultural Revolution of the 20th century. Waiting, one of Jin's most popular books, is especially descriptive of the Chinese experience during this time. This novel follows the life of a Chinese doctor who is torn between two women: one representing China's past and the other representing China's future following the revolution. Waiting dives into the nuances of a culture undergoing rapid change, while also exploring the nature of living in a country now under more stringent surveillance of its citizens. The Fontana Library system also carries an extensive collection of Ha Jin's novels.
India
You have probably noticed a few of Salman Rushdie's books on your local library's shelves; this prolific Indian author creates novels which integrate fantasy, travel, and intercultural connections. Midnight's Children exemplifies Rushdie's writing style; this generational epic incorporates dizzying amounts of characters, settings, and subplots and is often listed as a favorite among Rushdie fans. The Ground Beneath Her Feet is additional epic romance novel, following the disappearance of a famous singer, and serves as a testament to Rushdie's renowned fantasy writing capabilities.
Rohinton Mistry is another necessary mention as we explore Indian fiction. This Penguin Books published author has written an especially interesting short collection titled Swimming Lessons and Other Stories from Firozsha Baag, in which each short story takes place in the same Bombay apartment complex. A Fine Balance, Mistry's most celebrated novel, follows a similar vein as it features four very different individuals who must also share one apartment together. A Fine Balance describes life in India during the Great Emergency, a tense time in the country's history during which the government took extensive efforts to push India into modernism; a period which Mistry narrates with heartbreaking delicacy.
South Korea
Sri Lanka
Ru Freeman is a Sri Lankan author and political activist whose work is read around the world. A Disobedient Girl is one of Freeman's more popular books which can also be found in our library catalog. Following the coming of age of a young servant girl working in a wealthy Sri Lankan household, this book is woven with lyrical prose and a great attention to visual detail. Freeman's Disobedient Girl leaves nothing to the imagination as this author vividly paints each scene and tells an enchanting story in the process.
Until next time. . . While you're here, now is a good time to check out Goodread's Around the World in 80 Books, and you can always consult your local librarian for additional recommendations. Jackson County Public Library will be creating displays which feature authors from around the world. Of course, don't forget to sign up for Jackson's Adult Summer Reading program, and enjoy your travels!