Everybody has a bad days…
However, your local library is here to rescue you from the blues! Light comedy always helps to turn my mood around, and maybe it will for you too. Life is hard enough sometimes, so this list of materials is not here to educate or challenge you in anyway, but merely to entertain. Enjoy!
Illustrated Reads
Do word-filled pages tend to make your eyes cross after a long day? Who says grown-up books don't have pictures! Rather than turn to Netflix, why not try some illustrated stories, poems, or comics.
Growing up, I read the newspaper at breakfast every day. Okay… so mostly just the Funnies section. A whole book devoted to newspaper comics is a dream come true for me, and who doesn't love Calvin and Hobbes. Did you know that Jackson County Public Library contains an assortment of collected Calvin and Hobbes comics? A few pages of antics with Calvin and his stuffed animal companion are sure to leave you in a better mood. Need more funnies? The Smithsonian Collection of Newspaper Comics can also be found in the Fontana library system.
Egghead is young comedian Bo Burham's collection of comic poetry and illustrations. This is one of my very favorite books; I check it out every few months! Childish, occasionally stirring, and definitely inappropriate, Egghead is ideal for the thoroughly non-serious readers. (Check out an excerpt to the right).
You may have heard of The Oatmeal, the ultimate website for hilarity, educational comics, and wasting time. Well, Matthew Inman is hear to provide all that Oatmeal goodness in book form! You can find two of my favorites in the Fontana library system, including How to Tell If Your Cat is Plotting to Kill You and My Dog: The Paradox.
The Very Persistent Gappers of Frip is an illustrated book for adults, in which George Saunders uses his warm and unique writing style to create a moral parable which has a (mostly) happy ending. Saunders is notable for his ability to help you lose and regain your faith in humanity in a light-hearted way.
Light Reads
Mere Anarchy is Woody Allen's collection of short stories featuring adorably self-deprecating characters who navigate the absurd eccentricities of Hollywood culture. Woody Allen is especially talented at using his precise vocabulary to narrate some ridiculous situations that are only possible in California. Check it out and giggle to yourself in public.
David Sedaris is a prolific author (from North Carolina!) who specializes in the comedic critique of mundane situations. Sedaris has published over 15 works, and I recommend starting with Calypso or Me Talk Pretty One Day. However, Holidays on Ice contains one of my favorite Sedaris stories, in which he is employed as one of Santa's elves at the mall during Christmas; it is truly hilarious any time of the year.
If you are seeking some local humor, Bob Terrell is well-known throughout the Smoky Mountains for his Appalachian-flavored humor. You can find a wide selection of his work at the Jackson County Public library, including a few limited edition signed copies!
Movies
Maybe reading is just not in the cards tonight. You might consider checking your local library's DVD collection. Jackson County Public library is great grabbing for newer movies, as well as several older classics and a good selection of indie titles too.
Fantastic Mr. Fox is number one on my list of feel good movies. I watched it three times within the first month of being introduced, and forced several friends and family to watch it too. No regrets have been reported to date. Fantastic Mr. Fox is cataloged as a Children's DVD in the library, but it is truly a movie for everyone. Warm and playful, with a touch of Wes Anderson whimsy, this movie will turn any bad day around.
Monty Python and the Holy Grail – Yes, you've probably seen this one, but how long has it been? This movie never seems to get old. Check it out today and remember what all the hype was about.
Midnight in Paris is another favorite of mine. This light romantic comedy steers far away from sappy, and instead explores the tandem of silliness and truth that comes from following our inner yearnings. If you ever feel like you were born in the wrong century, then this movie is for you!
Secret Life of Walter Mitty is a classic underdog story. Feeling like The Man (i.e. your boss, bills, global warming) is keeping you down? Walter Mitty will inspire you to wake up to and enjoy the life that is yours!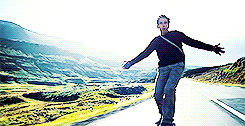 Next time you have a bad day, just remember, your local library is here for you!