Thanksgiving is next week, and it's time to prepare for the year's biggest feast!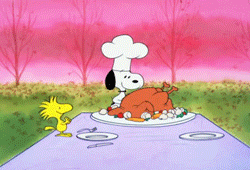 From classic turkey, stuffing, and green bean casserole to cranberry compote, Turkducken, and oyster stew, everybody does Thanksgiving a little bit different. Perhaps you're cooking for the twentieth year and looking to mix things up, or maybe it's your first time hosting Thanksgiving (like me!). Either way your local library has you covered. We have stacks of wonderful cookbooks, with many of them devoted specifically to Thanksgiving. Learn more below!
Traditional Thanksgiving Recipes
This book is over 25 years old. It was crafted with tradition in mind, so if your looking to emulate your childhood thanksgiving experience, then these recipes are for you. This cookbook includes instructions on how to prepare the perfect mashed potatoes (pg.123), written exactly as I was taught to make them as a child. It also features a helpful section on how to simply, but attractively present your dinner, mainly by letting the food speak for itself. With the addition of colorful berries, textured herbs and spiralized vegetables, you can enhance your brown meats and beige starchy sides. This collection further provides great advice on selecting wine and preparing a proper cheese plate. The Thanksgiving Cookbook is an all-around excellent resource for not only preparing traditional recipes, but also executing your holiday dinner with decorum.
The Best of Thanksgiving. Recipes and Inspiration for a Festive Holiday Meal
This take on Thanksgiving cooking was written by none other than the kitchen experts at Williams-Sonoma. With traditional flavors in mind, this collection emphasizes quality over quantity of recipes, and also boasts huge, colorful pictures for inspiration. Literally every recipe listed looks irresistible, and will provide you with options that feel familiar, yet elevated. This cookbook really shines with its collection of seasonally-based sides, ensuring that your root veggies and fall fruits are being utilized to their highest potential; pumpkin, greens, sweet potatoes, and pears are all on spotlight here. The Best of Thanksgiving is the perfect resource for choosing a unique, yet fail-proof dish to bring to your next potluck!
Check out these additional traditional cookbooks:
Modern Thanksgiving Recipes
The Thanksgiving Table : Recipes and Ideas to Create Your Own Holiday Tradition
This collection provides a unique take on many traditional Thanksgiving dishes by emphasizing the use of herbs, sauces, and special preparation methods. This book especially excels in its variety of turkey recipes. From roasted herb to apple-cider glazed birds, you will find a recipe that suits your dinner goals. If you're faced with a lack of oven space, mix it up this year by bar-b-quing your turkey with the Hickory Smoked bird recipe (pg. 54). Also be sure to check out the turkey breast with rosemary and thyme recipe (pg. 61). I can tell you this tastes amazing when cooked over a bed of simple stove-top stuffing!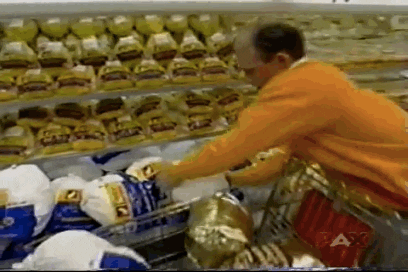 This book also provides a few unique, meat-free entrees as an alternative for your vegetarian guests; in particular, the pumpkin and sage lasagna (pg. 71) looks scrumptious and imaginatively breaks the typical tofurkey mold. The Thanksgiving Table also offers a few creative decor ideas, such as using hollowed out pumpkins and gourds as a candle votive, vases for autumn flowers, or as a gravy boat.
The New Thanksgiving Table : An American Celebration of Family, Friends, and Food
The New Thanksgiving Table was inspired by the author's travels across the United States, as she noted how regions of the U.S. each had unifying themes in their approach to Thanksgiving dinner. You will find multiple localized methods for creating every quintessential Thanksgiving dish. For example, this book provides three different ways to prepare a cranberry sauce, including a very creative cranberry-jalapeno salsa (pg. 161), inspired the Southwest. As such, this book is perfect for any Southern person seeking to impress their Northern in-laws, or vice-versa! This recipe collection offers several complete menus, each with a regional theme, including New England, Heartland, Southern, and Pacific Northwest. What I love about this book is that it celebrates Thanksgiving, an American holiday, in a very American way, by highlighting our country's diversity.
The Pioneer Woman Cooks : A Year of Holidays : 140 Step-by-Step Recipes for Simple, Scrumptious Celebrations
Convenience is a hallmark of modern-day cooking, and Thanksgiving is not immune to this development. Pioneer Woman is known for her paired downed, but tasty recipes. I especially love her dressed-up, but still oh-so-simple green bean casserole. So if you're preparing multiple dishes or cooking for a crowd, you don't want to fuss over recipes with excessive ingredient lists and intensive steps; instead, check out this book! And while you're at it, ask about holiday cookbooks for your slow/pressure cooker! Utilizing these cookers will save you time and oven space, both of which are always in short supply on Thanksgiving day.
In addition to the mentioned non-traditional cookbooks, there are numerous plant-based holiday cookbooks in the system for your vegetarian and vegan guests. We also provide gluten-free, diabetic-friendly, and heart-healthy cookbooks for the holidays. Ask your local librarian for these!
Friendsgiving
Friendsgiving : Celebrate Your Family of Friends
I actually checked this out prior to planning my Friendsgiving party, it has been especially helpful. It provides a timeline for cooking and prepping for the party, multiple complete menus with complementing themes, affordable decor ideas, and some super fun cocktail recipes. The best part of this book is its simplicity. It separates the necessities from frivolities in your planning, which as anyone who has hosted a holiday party can attest to, it's easy to get lost in the sea of Pinterest party ideas! So forget the complicated menu and expensive decor; the core of Thanksgiving is about spending time with the people you love, and this book helps you channel that.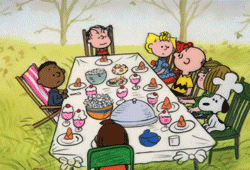 With such an array of materials, you're sure to find a cookbook to suit your Thanksgiving plans. Visit your local Fontana branch library today and get a jump start on your preparations. Happy Feasting!