Hello, readers! C.S. Lewis once said, "You can never get a cup of tea large enough or a book long enough to suit me." I admit I am in complete agreement with him! One of my favorite pastimes – actually more of a daily necessity – is to have a steaming cup of tea while reading a good book. Since books and tea go together so well, books about tea can get you one step closer to finding your own tea bliss.
Maybe you don't know that much about tea, other than it comes in tea bags from the grocery store and goes in hot water. (As a side note, while you can't deny the convenience of a tea bag, there is something very satisfying about the process of steeping loose tea.) You may have looked at the boxes of tea on the shelf and seen black tea, green tea, and other flavors as well, but what is the difference? All true teas come from the leaves of the same plant, Camellia Sinensis. Herbal "teas" such as chamomile or peppermint are not really teas, but tisanes, and are derived from various parts of other plants instead. However, they still taste good! The differences in true teas come from how those Camellia Sinensis leaves are processed after they are plucked. The centuries-old technique involves withering, steaming and rolling the leaves, and the oxidation time will determine if a tea is classified as black (the longest oxidation time), oolong, green, or white (the least amount of oxidation).
The country of origin also plays a role; you might sip a delicate Darjeeling or a bold Assam from India, a mellow Keemun or a smoky Lapsang Souchong from China, or Japanese green teas like Sencha or Matcha. Other countries where tea is grown include Kenya, Sri Lanka, and Taiwan, and even right here in the United States. There are many blends available, like English Breakfast, and there is a multitude of flavored teas, such as Earl Grey or Lady Londonderry! I've only scratched the surface of the abundance of teas in the world, but if you're interested in learning more about all the various teas available, books such as The Tea Companion and The Tea Book can take you on a photographic and informative journey of the whole process from the plant to your cup.
If you would like to read about the history of tea and how it arrived on our shores, you could check out The True History of Tea, or The Story of Tea: A Cultural History and Drinking Guide, or A Perfect Cup of Tea, which is a charming facsimile of a 1903 book, complete with vintage ads and ephemera. Another informative book is A History of Tea: The Life and Times of the World's Favorite Beverage.
Once you have determined what type of tea you might enjoy, what will you do with it? Certainly you can just enjoy a cuppa, but did you know you can also cook with it? Tea can add an extra dimension of flavor to many recipes, even ones you might not expect. One of my personal favorites is the Earl Grey and Chocolate Cake recipe from Culinary Tea; the Darjeeling Tea Bark recipe in this book is next on my list to try! Not all the recipes are sweet; there are also recipes for both main and side dishes, soups, sauces or marinades, and other beverages. You can find these and many more in books such as Tea: More Than 80 Delicious Recipes, or Cooking with Tea : Techniques and Recipes for Appetizers, Entrees, Desserts and More. Another choice is Celestial Seasoning Cooking With Tea, in which the recipes include specific teas from their own tea brands.
Of course, once you make all these divine tea recipes, you might not want to eat them all yourself. (Or maybe you do – and that's okay, too!) But if you'd like to share your newfound tea cuisine, you could host a tea party. You can find ideas for themes, as well as more recipes, in many of the books our system has to offer. It could be something wildly elaborate, as in The Vintage Tea Party Year, or Steampunk Tea Party, or more simple, as in Tea With a Twist, or Tea Party: 20 Themed Tea Parties with Recipes for Every Occasion. You can even take the Tea Parties 101 course online, free with your library card, through Universal Class!
No tea party ideas would be complete without mentioning Downton Abbey. (If you haven't seen it, or just want to re-watch it, click here to get started.) Every episode of this series includes tea, whether it be in an elegant drawing room with fine china, or in the servants' hall, with a plain Brown Betty teapot. The Official Downton Abbey Afternoon Tea Cookbook will show you how to capture that genteel era, complete with even more recipes and lovely photographs from the show.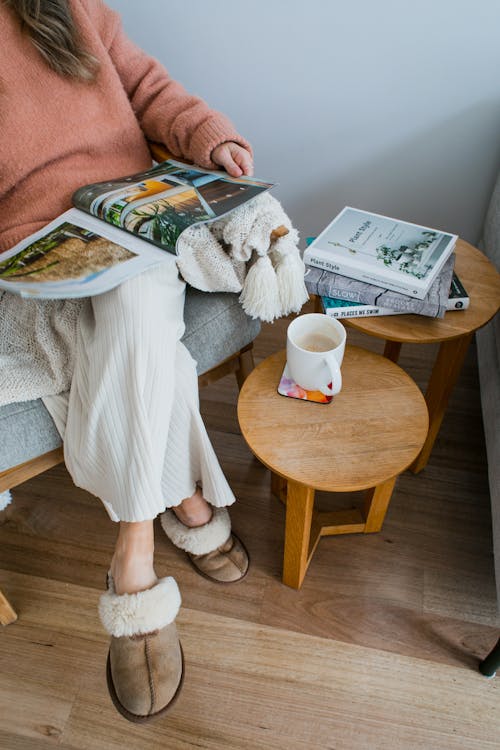 Maybe you are more inclined to have your own personal tea party, and would enjoy nothing more than just relaxing in a comfy chair with a hot cup of tea, be it a delicate porcelain teacup, or a large, sturdy mug. In that case, you must have a good book to read while you sip! The Tea Girl of Hummingbird Lane, by Lisa See, is a wonderful tale of a young woman and her family who are tea farmers. The fascinating storyline is interwoven with the many traditions involved in the growing of tea and the making of yet another type of tea, pu'erh.
If a cozy mystery is your preference, I highly recommend the Tea Shop Mysteries by Laura Childs. These begin with Death by Darjeeling, and each title incorporates a different type of tea. While each book can be read as a standalone, it's best to read them in order, because the characters are recurring. The fictional Indigo Teashop in Charleston is the setting for intriguing mystery and murder, and the shop's proprietor, Theodosia, is an amateur sleuth with a knack for getting more involved than she intends! As a bonus, every book includes yummy recipes and more from the Indigo Teashop.
I hope I have inspired you to think beyond the basic tea bag, and given you a few of the many options in reading material available. So grab whatever wonderful book you are reading, pull up a chair, and I'll go put the kettle on!