Hello, readers! I have had a long fascination with sheep, as those who have known me can attest. I'm not sure when it began, but perhaps it was watching British television shows and seeing those pastoral views of sheep grazing in a green field. Or maybe it was books such as those by James Herriot, where I could imagine bottle feeding a newborn lamb, or all the adorable books for children that featured sheep. I can't pinpoint the beginning of my obsession with certainty, but imagine how happy I was to discover that there was actually a holiday that revolved around this animal! Yes, this year, October 30th is National Hug-a-Sheep Day!
Sheep have been part of our culture for hundreds of years. They have provided us with sweaters, socks, blankets, food, and lanolin for our skin, just to name a few things. Did you know that President Woodrow Wilson kept sheep on the White House lawn? During WWI, those sheep kept groundskeeping costs down by grazing, and also freed the employees to serve their country. When the sheep were sheared, each state received 2 pounds of the "White House wool". It was then auctioned off to the highest bidder, and the proceeds from every state went to the Red Cross, raising almost $52,000!
There are many breeds of sheep all over the world, with such interesting names as Dorset, Corriedale, Babydoll Southdown, and Cheviot. Certain breeds of sheep are renowned for their wool, such as Merino and Leicester, and yarn from these breeds are lovely to work with. A fun fact, until 2015, the world record for heaviest fleece in a single shearing was held by Shrek, an escaped New Zealand Merino. When he was found in the wild and sheared, his fleece weighed 60 pounds…and bear in mind that the average weight is only 5 – 10 pounds. That record was broken in 2015 by Chris, also a Merino, in Australia; his fleece weighed 90 pounds! Conversely, there are breeds of "hair sheep" , two of which are Cameroon and Mouflon, which don't have fleece at all. Rather, they have hair and don't need to be shorn – they just shed!
Many of the sayings and phrases we commonly use today are based on sheep. Do you have a "black sheep" in your family? Have you ever been "fleeced" by a "wolf in sheep's clothing?" Has anyone suggested that you "count sheep" to get to sleep? Have you ever "had the wool pulled over your eyes?" Maybe someone has given you a "sheepish" look, or you have felt that way yourself. I don't think sheep really deserve the negative connotations of some of these sayings, but the origins of them are quite interesting! For instance, if a sheep's wool is not kept trimmed around their eyes, it can grow over them, causing "wool blindness." Hence, "having the wool pulled over your eyes" can mean you are being deceived and not seeing things as they actually are. Another example, according to those who shear sheep, is the "sheepish" look given to them by the sheep who have just lost their woolly coat: a look of embarrassment and awkwardness. I feel sure some of us can relate to that!
The notion of "counting sheep" to help you get to sleep has been around for ages; shepherds would count their sheep at night before going to sleep, to make sure their flock was all there. Theoretically, it is the repetition that helps calm your mind and drift off. But one of the most unique ways to count sheep is an old system used by shepherds in England; specifically, the wording used in Swaledale, in the Yorkshires. The shepherds would count the sheep from 1 – 20, then take a small stone to represent that group. If they had more than 20 sheep, they would start over again, using another stone for the next group of 20. Sounds basic, but the fascinating part is the actual counting: they didn't say, "One, two, three, four, five…"; instead, they said, "Yan, tan, tether, mether, pip…"! Each number (1-20) is represented by a different word, in the traditional Yorkshire dialect. If you would like to hear it explained in its entirety, go here; you can also listen to the song about a shepherdess named Molly Metcalf.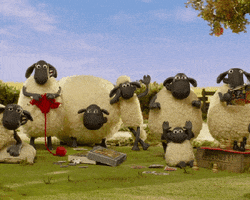 But what do sheep have to do with libraries? I'm glad you asked! Sheep have been featured in both books and television for years, and a lot of these resources are available through our libraries. Remember Lamb Chop, the cute puppet on TV in the early '60's? You can walk down memory lane with these DVDs. And what about Maa and the rest of the flock on Farmer Hoggett's farm in Babe? A more recent, and one of my favorites, is Shaun the Sheep, who not only has a TV show, but also his own movie. As for books, we have a wide variety, both for children and adults.
For many of us, our first exposure to the printed word (and sheep) was in nursery rhymes, such as Baa Baa Black Sheep and Mary Had a Little Lamb. There are a plethora of children's books that feature sheep today, from classic author Margaret Wise Brown's Sheep Don't Count Sheep, to popular author Mo Willems' Time to Sleep, Sheep the Sheep. So many children's books with sheep are just fun to read, like Russell the Sheep, Woolbur, and Lambslide; Nancy Shaw's Sheep in a Jeep, along with its follow-ups, is a great rhyming series. Another cute book is My Favorite Pets, the story of a boy who has 17 sheep! I also enjoyed Pete the Sheep-Sheep, about a sheep, rather than a dog, who herds sheep; it had a clever story and hilarious illustrations. Some of the books have beautiful photographs, such as the Sweet Pea & Friends series, which include The Sheepover and Brave Little Finn. My personal favorite is Max Lucado's The Crippled Lamb, with its lovely illustrations and inspirational story about being different.
As for adult books, I highly recommend James Herriot's series, which begins with All Creatures Great & Small. It's not all about sheep, but they are a big part of that English country life. (We also have the original TV show on DVD, as well as Smudge, The Little Lost Lamb, one of his many books for children.) Other chronicles along the same line include Shepherd: A Memoir and The Shepherd's Life, both of which are specifically sheep-oriented. A quirky book I recently read is Three Bags Full, a witty murder mystery where the detectives are sheep! Led by Miss Maple (the smartest sheep in Glennkill), the sheep try to discover who killed their shepherd. It was a fun read! Another author, Betty Hechtman, writes cozy mysteries that revolve around crocheting and knitting, with clever titles such as Silence of the Lamb's Wool and Gone With the Wool. You can see the list of all the Yarn Retreat mysteries here.
Speaking of yarn, our libraries have many books related to knitting and crocheting; I mentioned just a few in my previous blog. But there are other crafty things you can do with yarn, such as yarn art, making pom-poms, decorating your home, and creating wearable accessories. A great book with lots of ideas is Knitless: 50 No-Knit, Stash-Busting Yarn Projects. Other crafts can be done with wool roving, which is fleece that has been processed (cleaned and carded), but not yet spun into yarn. Needle felting is a one popular craft in which these roving fibers are manipulated with a barbed needle to bind them together, and simultaneously shaped into animals or other art forms. You can also turn those roving fibers into your own yarn, by using a spinning wheel or drop spindle. We have books on both needle felting and spinning, if you are interested in learning either of these skills. Good choices to begin with are Sweet and Simple Needle Felted Animals and Start Spinning: Everything You Need to Know to Make Great Yarn, both of which have excellent photographs and detailed, step by step instructions.
If you dream of having your own flock some day, we have many books on learning how to raise sheep, such as Living With Sheep: Everything You Need to Know and Storey's Guide to Raising Sheep; I especially like The Backyard Sheep, by Sue Weaver. This book is a great introduction to keeping sheep, with information on every aspect such as choosing your sheep, their housing and care, lambing, shearing and more. But it's also full of fascinating history and facts, some of which I've included here. There are short sidebars titled, "Ewe Said It" and "Did Ewe Know" scattered throughout the book, as well as "Sue's Sheep Blog", in which the author writes of her own personal life with sheep. Even if you don't intend to actually own sheep, this book is definitely an entertaining read.
I hope you've enjoyed learning a little more about my favorite ungulate! As you can see, there are many reasons to hug a sheep when October 30th comes around! I may not be able to hug a real, live sheep, but I will certainly be thankful for all the ways sheep have enriched my life. From cozy wool sweaters to crafting with yarn, I can't imagine a world without sheep…..and sheep books!